Welcome to the Official Site for Emma Reed Martelli. You may recognize Emma from one of her jobs for companies such as David's Bridal, Lands' End and Saks Fifth Avenue. Here you will find all of the latest news and up to date information about this talented young actress and model. For Industry Professionals looking to learn more about Emma, please click on her name above for an overview of information.


NEWS & UPDATES
08 May 2015
Poster Child Magazine
The spring issue of
Poster Child Magazine
has arrived, and it is filled with fabulous shoots, designers and....a feature on Emma! She was selected as their
Junior Trendsetter
, and got a four page spread with new photos by
Martelli Photography
, and her dog Drusilla made a special appearance in the shoot too! Emma had so much fun taking photos with her dog as she did multiple looks both in the studio and outdoors. The photos came out
fabulously
, and shoot images can be found in the gallery too!


Poster Child Magazine
held a
launch party
for their magazine as well, and Emma was on hand to join in on the celebrations! She loved seeing the issue in print, posing for a photo with it, and look at all the yummy treats too! It was a very fun party, and make sure to check out the full issue of the magazine
here
!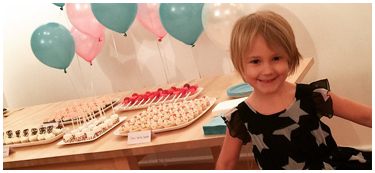 Posted by: Lisa
07 Apr 2015
Oil & Water
Emma is all set for those April showers coming up thanks to
Oil & Water
! She recently got to do a photoshoot for them, alongside a couple of her friends, as they modeled some of the latest raincoat designs from the company. Now that is how you make rain fun! She was full of personality as she posed for the camera, umbrella in hand, and the images came out
fabulously
. The shots can now be found in the gallery, and will have you wishing for those rainy days to hurry up and get here!


Posted by: Lisa
27 Mar 2015
Company Kids
Last year Emma did multiple shoots for
Company Kids
, having a blast working with friends, crew members, and even a dog! Her first shoot that surfaced was for sleeping bags, the funky colors, and a pretend sleep over with friends made for a really fun shoot and a
second image
has surfaced! It features Emma and the other kids resting their heads on the pillows as they laugh and talk, their favorite dolls safely beside them in matching sleeping bags for when they fall asleep. It's a really nice shot, and make sure to head on over to the gallery to check it out!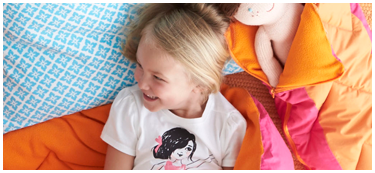 Posted by: Lisa
25 Feb 2015
Saks Fifth Avenue
Emma loves shooting for
Saks Fifth Avenue
! She got to work with them both in
2013
and
2014
and shoot images from both of her jobs for them have recently surfaced! The images were previously seen in banners on the company's
website
, and it is so nice to have bigger versions for some of the shots. The first is from her Easter shoot where she can be seen with her friend
Adriana
, and the last two are from her winter shoot modeling apparel from
Burberry
. Make sure to head on over to the gallery to check the images out!

Posted by: Lisa
03 Feb 2015
Rejuvenate Home
Last summer Emma filmed her very first
commercial
! It was for
Rejuvenate Home
and she was so excited to be on set, working with a wonderful pretend family, complete with a big friendly dog. The commercial has now surfaced, and we have a copy! Emma can be seen running through the newly cleaned kitchen with her 'brother' as well as the dog, even with all of their mess from playing outside, the floors are clean again in no time. She was so happy to see herself in the spot, and make sure to view it in the
media section
!




Posted by: Lisa
22 Jan 2015
Happy Birthday!
Today is a big exciting day for Emma! She has been celebrating all week and now the day is here making her officially five years old!
Happy Birthday Emma
! I hope you have an
amazing
day today celebrating with your family, and taking in all of the magic of
Disney
. Hopefully you will get to meet some of your all time favorite Disney characters, go on your favorite rides, and what an awesome way to celebrate!
Happy Birthday
!
Posted by: Lisa
18 Jan 2015
Grand Opening!!
Welcome to Emma Reed Martelli's
Official Website
! Here you will find all of the latest news, images, and media for Emma and her career. Emma has worked for companies including
Lands' End
,
Saks Fifth Avenue
,
Target
, and you may have caught her on the
Live with Kelly and Michael
Christmas episode last month with Caroline Rhea. She can be seen in the current issue of
Earnshaw's
, and will be in an episode of
Odd Mom Out
later this year!
We'd like to thank the
fabulous
Marie of
Frontier Designs
for our fantastic layouts for the site. A
thank-you
also goes out to
Josephina Carlier
whose images can be seen in the gallery layout while the main and guestbook layouts feature images by
Martelli Photography
. Don't forget to
sign the guestbook
, we'd love to hear from you!
To start off the first of many
exciting
updates is behind the scenes images from Emma's episode of
Odd Mom Out
! She had a
fantastic
time filming as she got to attend a birthday party! Crafts, music, it was like a real party, just on set, and she loved all of the people she got to meet and work with. Actress
Ashlynn Alexander
who plays a nanny in the episode made sure to get a photo with Emma before the day was over, and had some great things to say when posting the shot to her
Instagram
account:
I was a #Mormon #nanny, and she was literally THE MOST SET-FRIENDLY CHILD EVER. If your child is not as well-behaved as this lovely little four-year-old, then your child doesn't belong on a set.
Emma loved working with Ashlynn too and was so happy to hear her kind words about their time on set together. The series makes its debut June 8th on
Bravo
, and make sure to catch Emma in
episode 8
!


Posted by: Lisa
<< Previous 1 2 3 4 5 6 Next >>